Tor-Na-Coille Hotel is a privately owned Victorian country house hotel located in Royal Deeside. 
Set in acres of woodland grounds, this magnificent granite building enjoys panoramic views of the surrounding hillside.
Ideal for a short luxury break.
Owned by North East Scotland Chef of the Year, the hotel has built an enviable reputation for producing mouth-watering dishes. The Menu is full of contemporary and classic flavours used in innovative ways. 
WHERE COUNTRY CHIC AND FINE DINING MEET
Following the hotel's full refurbishment to 4-star standard, as recognised by Visit Scotland, The AA and Scottish Hotel Guide.
Reason was commissioned to create a modern and engaging website epitomising the hotel's reputation and credibility. Enticing targeted luxury-seeking clientele to enjoy a stay in the relaxed country chic atmosphere. 
Our objective when designing the website was to create an aesthetic and engaging user experience across all devices. The first step was to celebrate the refurbishment and share all that Tor-na-Coille has to offer its guests.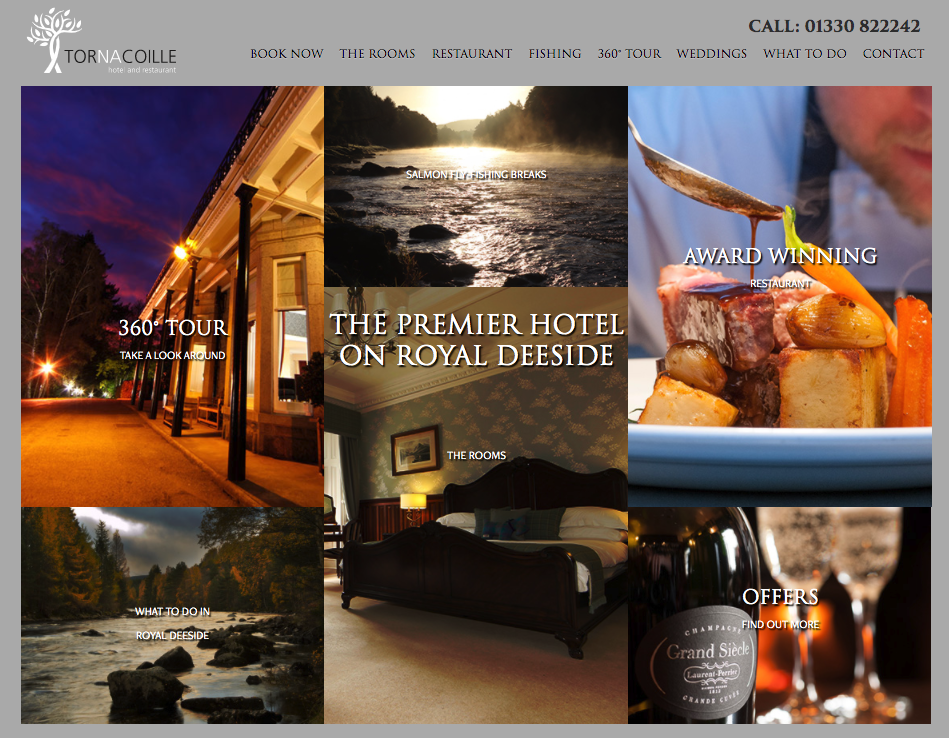 Reason delivered a truly bespoke design.
The hotel was encouraged to reveal all by incorporating a 360-degree tour of the entire hotel. Visitors to the site can explore reception and lounge areas, all 30 guest rooms, the gym and restaurant. 
Online booking system and analysing customer behaviour to increase profits
This level of transparency saw bookings increase, with many guests extending the period of their stay.
Another positive result for the hotel was delivered through the analysis of online activity. Reason incorporated Google Analytics tools to track user behaviour.
The owners were then able to see the most sought after rooms, test pricing and increase profitability. Even during periods of lower seasonal uptake. 
The second was to incorporate an online booking system, with seamless integration and secure payment feature. This allowed the hotel to take online bookings, simplifying the process for its visitors and staff.
And thirdly was to indulge the owners' passion. Engage the clientele's visual and culinary senses with a delicious restaurant section. 
Alongside the website, Reason also produced a series of Press and Magazine Advertising. With the aim to promote the luxurious refurbishment and award-winning restaurant at the Tor-Na-Coille Hotel.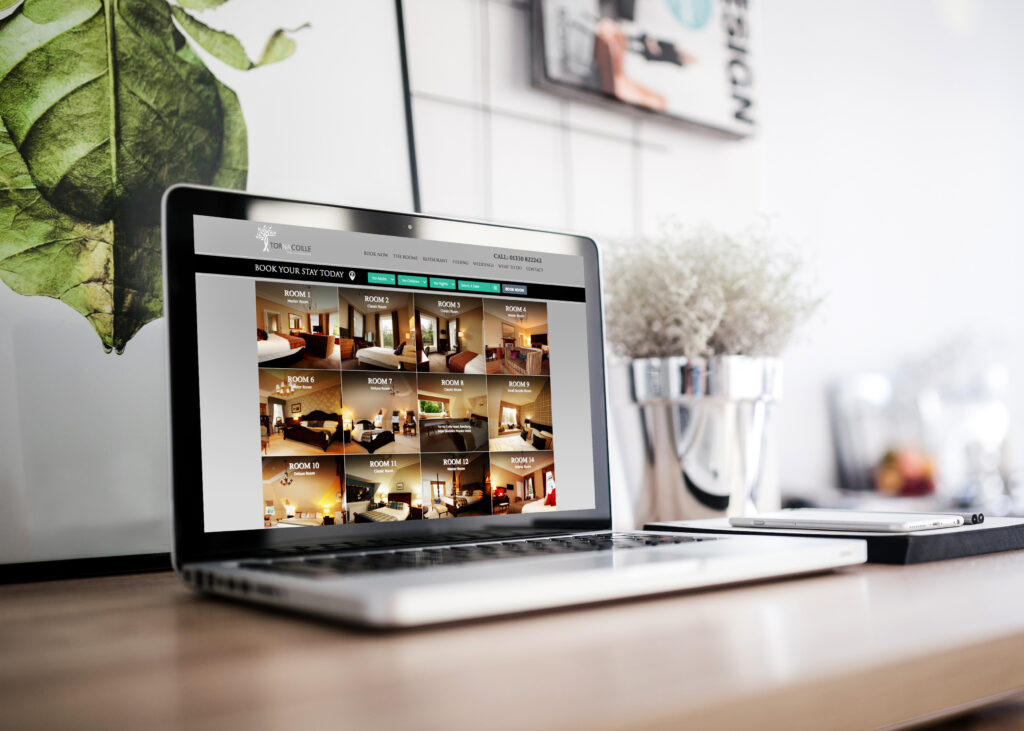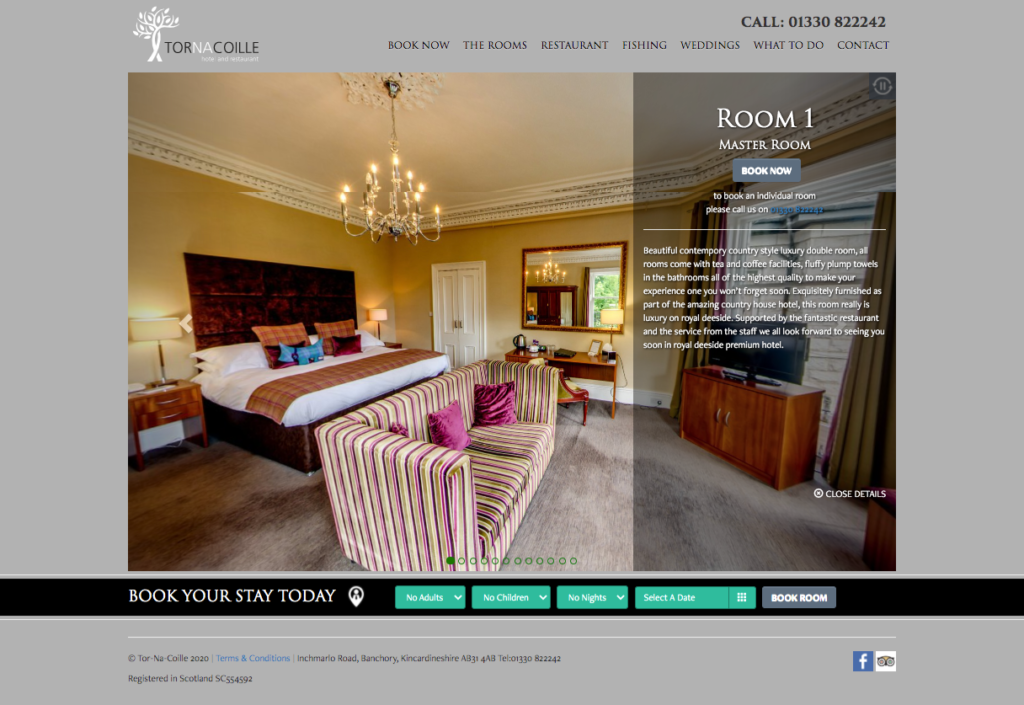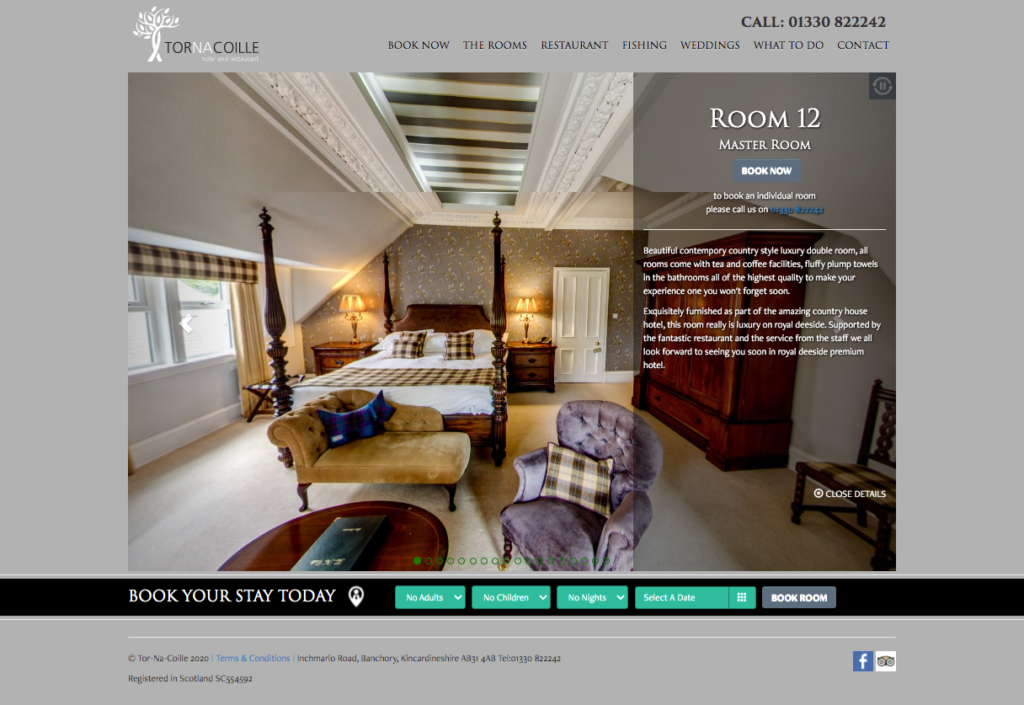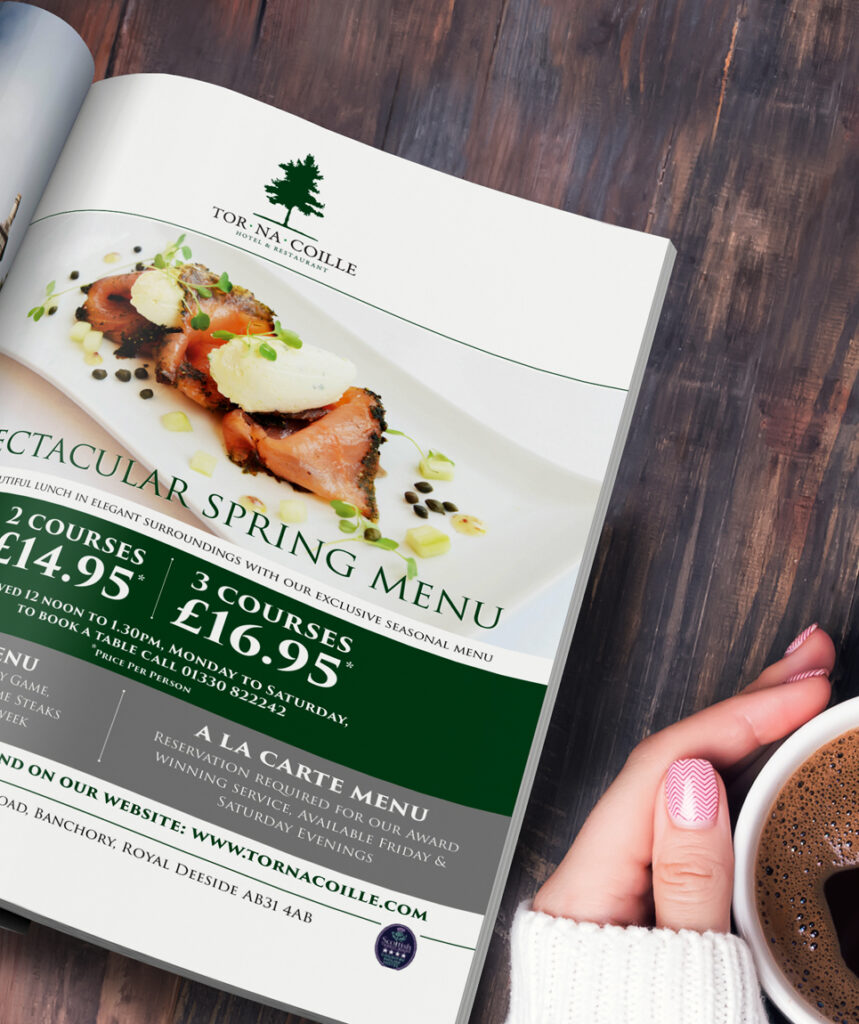 For more projects check out our Client Projects page.
If you love food, you'll love what we did with Cafe83 on social media, read the full story, here.